LG Ductless Systems
LG Ductless Systems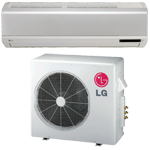 Whereas traditional heat pumps and central air conditioning systems force cooled and heated air through ducts, ductless systems deliver air directly into different zones. They are comprised of a small outdoor unit and one or more indoor units that require nothing more than mounting capabilities and access to electricity.
Sometimes referred to as split systems, multi-split systems, or split-ductless systems, ductless cooling and heating offers home and business owners a cost-effective way to replace inefficient window units, space heaters and electric baseboard heaters. They can be installed in home additions, new construction, condominiums and apartments, or to improve temperature control in specific rooms. Ductless systems can even be fit for buildings that currently use ducted forced-air systems.
LG Duct-Free Split systems offer a winning combination of advanced climate control technology, all-important operating efficiency and exceptional design aesthetics. A simple reconfiguration of conventional central air conditioners eliminates the need for complicated ductwork and reduces energy inefficiencies caused by moving air through ductwork. Because each room can be controlled by a separate thermostat or hand-held remote, temperatures can be customized for each room or zone to provide ideal heating or cooling anywhere it is needed. LG Duct-Free Split systems can usually be installed in less than a day by professional contractors.
LG Indoor Duct Free Units
LG Indoor Multi-Zone Ductless Units

Art Cool Gallery
View Brochure
Model Family: LAN***HVP
Purpose: Heat and Cool
Zone Capability: Multizone
Efficiency SEER: Up to 16 SEER
Efficiency EER: Up to 12.5 EER
Efficiency HSPF: Up to 8.2 HSPF
Matching Outdoor Unit: Single-Zone: LAUXXXHVP
Matching Outdoor Unit: Multi-Zone: Dependent on the number of inside units
Energy Star Rated: Energy Star Rated
Refrigerant Type: R-410A
Number of Fan Speeds: Up to 5 Fan Speeds
Sound Level: Quiet operation
Wireless Remote: Yes
Factory Warranty Parts: 5 Year Parts Warranty
Manufacturer's Stated Benefits:
Self-cleaning coils in the indoor unit for easier maintenance
Many modes included, controlled through wireless remote: Cooling, Heating, Dehumidifying, Fan, Auto, Auto Sleep, Defrost
Chaos Wind electronically controls fan speeds to create a more natural flow of air; Jet Cool operates at high fan speeds for 30
Allows refrigerant piping lengths up to 49 feet, and elevation difference up to 23 feet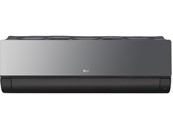 Art Cool High Wall Mirror HSV5 Series
View Brochure
Model Family: LAN***HSV5
Purpose: Heat and Cool
Zone Capability: Single Zone and Multizone
Efficiency SEER: Up to 21.5
Efficiency EER: Up to 14.5 EER
Efficiency HSPF: Up to 11.3 HSPF
Matching Outdoor Unit: Single-Zone: LSU***HSV5
Matching Outdoor Unit: Multi-Zone: Dependent on the number of inside units
Energy Star Rated: Energy Star Rated
Refrigerant Type: R-410A
Number of Fan Speeds: Up to 6 Fan Speeds
Sound Level: Quiet operation
Wireless Remote: Yes
Factory Warranty Parts: 5 Year Parts Warranty
Manufacturer's Stated Benefits:
4-Way auto swing
24-Hour on/off timer
Auto restart
Auto changeover
Chaos wind
Condensate Sensor Connection
Inverter (variable speed compressor)
IDU compatible with Multi F ODU
Jet cool/Jet heat
3M Micro Protection Filter
Self-cleaning indoor coil
Sleep mode
Cooling only function